Gifford Productions produces videos, creates online learning management training systems, films executive interviews, drops social media videos, and coordinates live-streaming events for clients.
Our clients are typically businesses, non-profits, and ad agencies around the Boston area needing professional video services. We are also hired by other video production companies from around the globe to act on their behalf.
Our on-line learning (LMS) clients appreciate our one-stop-shop to get their customer and employee training goals launched.
Video clients appreciate our creativity and experience, the film crew's knowledgeable approach, our professional broadcast cinema gear, but most of all our friendly team first attitude.
Our editing has been known to emotionally move audiences and is described by clients as "masterful, subtle, clever, and experienced."
In need of immediate a timely and free estimate? Call us now at 617-796-7744 or visit Contact Us.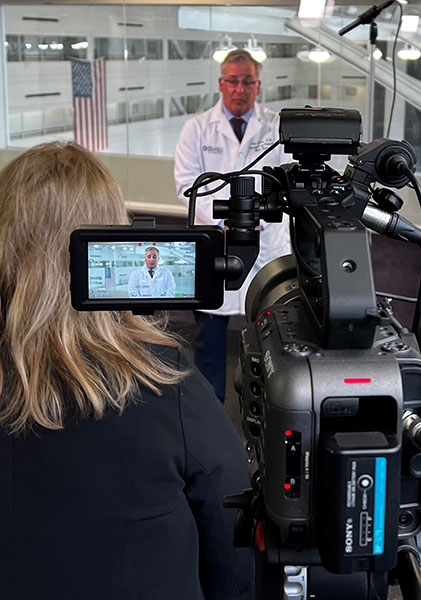 Interviews are the foundation of our work.
SAMPLE PROJECT
Swirl: Communicating Complex Tech with Clarity
Swirl, a leading player in the enterprise search and AI sector, faced a universal challenge: How could they effectively communicate their rapid developments and latest news to both their existing and potential users?
Enter Bob Gifford, who had an ace up his sleeve – Shannon Mulaire, a former news correspondent known for distilling complex topics into relatable narratives. After delving into the materials provided by Swirl, Shannon facilitated an insightful interview with the company's Founder and President, Sid Probstein.
Our production at Swirl's headquarters yielded 16 valuable videos, each tailored to address the questions of their user base.
Equipment Details:
Cameras: 3 Sony FX6 Cinema Cameras
Lighting: Aputure
Audio: Wireless lavs and boom microphones
SAMPLE PROJECT
Hope Lodge: A Cinematic Tribute to Resilience
For the American Cancer Society's prestigious annual gala at Boston Garden, Bob Gifford took the director's chair, crafting a poignant film for a cause close to many hearts. Through meticulous research and deep empathy, Bob enabled the guests of Hope Lodge to voice their most profound emotions on screen.
That evening, the film wasn't just a visual spectacle—it became a beacon of hope, playing a pivotal role in raising an impressive $1.6 million for Hope Lodge. This invaluable establishment offers complimentary accommodation for out-of-town cancer patients, ensuring they remain close to the essential medical care provided by Boston hospitals.
SAMPLE PROJECT
CARB-X: Crafting a Compelling Case for Congress
Boston-based CARB-X, a global non-profit dedicated to fast-tracking antibacterial products to combat drug-resistant bacteria, sought a persuasive 5-minute video to present to Congress, advocating for additional funding.
Bob Gifford collaborated intensively with the CARB-X Public Relations team over several weeks, meticulously crafting the treatment and script to ensure the message resonated. Recognizing the need to film at multiple U.S. locations beyond Boston and working within a restricted travel budget, we strategically enlisted local videographers in Texas and California. Additionally, we innovatively utilized Zoom to capture pivotal online elements integral to their narrative.
The result? A compelling video that played a significant role in securing Congressional funding for CARB-X.
Multiple 4K camera packages

Wireless Lav, Boom & Handheld Microphones

Aerial Drone Photo and Video

Motion Graphics & Effects